SORG is renowned for its superior engineering and specialist knowledge, the company is also known for using only certified components of the highest quality. With an extensive range of purpose-designed equipment and spare parts available from one direct source, you can rely on SORG to help maintain productivity and keep disruption to a minimum. Here are just a few examples:
Reversal system – double deck slides
Proven technology without separate combustion air flap with pneumatic or electric actuator
Example for side fired furnace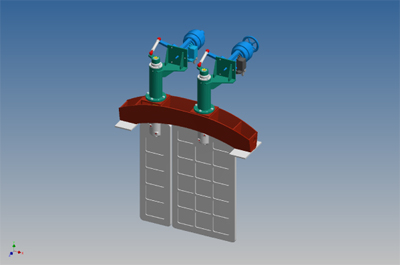 Double-winged furnace pressure regulating flap
This double-winged flap regulates the exact pressure in the furnace. Stabilizing the melting process and saving energy, both wings feature different cross sections, positively influencing the control behaviour.
Near infrared (NIR) camera
Our advanced camera offers visualization and thermography at the same time. Available with two aperture angles, almost the entire furnace chamber can be monitored, including the flame burn-out on side-fired furnaces.
Burner holder  
You can easily adjust the burner without changing the checkpoint on the nozzle. A cast plate connected to the holder, seals the burner brick to avoid an air inlet, which is crucial to reducing NOx emissions.
One place for every part
Whether you require parts for a back-up system or general furnace equipment, we have everything you need to facilitate the changes quickly and easily, saving your plant valuable time and money.
For further information, get in touch with us today: http://www.sorg.de/contact/.