Façades play an important role in the control of energy flow and energy consumption in buildings.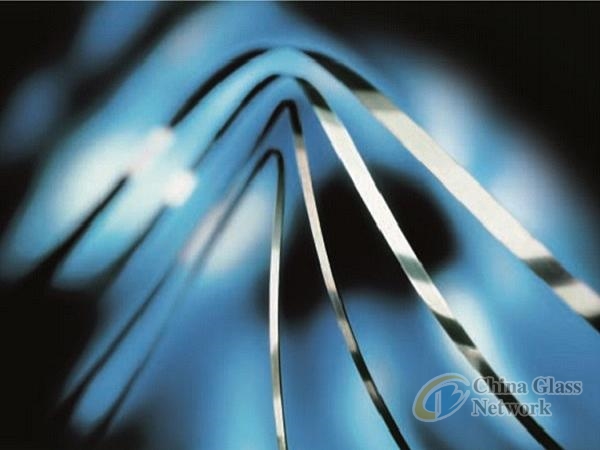 First presented at GPD 2019
The option of regulating internal and external conditions acquires great relevance in new approaches to sustainable building solutions. Studies on climate adaptive façades show a very high potential for improved indoor environmental quality conditions and energy savings by moveable façades.
A number of movable façades were realized in the past, but the use of thin glass with a thickness of 0.5 mm to 2 mm opens a brand-new field, that allows for playing with the geometry of the outer skin and the opportunity to make it adaptive by movement.
Thin glass requires for curved surfaces in order to gain structural stiffness in static use. In kinetic façades the high flexibility of thin glass allows for new options for changes in size and position by bending of elements rather than implementing hinges in a system of foldable rigid panels.
The geometry is based on the known theory of developable surfaces for keeping a low stress-level during movement. Façades may therefore be created from cold bent or curved laminated thin glass layers which provide better sealing, greater simplicity in construction, robustness and durability of moveable components which may be actuated or move autonomously.
By application of the principles of conventional moveable façades to bendable geometries a new toolset may be provided for the design process by architects and will be explained by design examples in this paper. Some concepts based on the before mentioned theories were created to explain principles and discuss their applicability.
Introduction
2016 a research centre, "Josef Ressel Centre for Thin Glass Technology for Structural Glass Applications", was launched and deals, for example, with the topics of the determination of the ultimate bending strength of thin glass, explores new fields of applications for thin glass or creates new design possibilities for architects.
Another aim of this research centre is to systematically gather existing knowledge about general moveable structures in buildings and apply this expertise to façades made from thin glass as for example climate adaptive building shells. Based on experiences with prototypes both at model scale and real size, computer models were carried out and tested in terms of kinematics of bending using Rhinoceros 3D with Grasshopper and other plugins from the Rhino environment.
As a key point the real size model of a movable canopy presented at the Glasstec 2014 in Düsseldorf, Germany, as shown in figure 01 below, was an excellent demonstrator for the potential that lies in the utilization of thin glass in moveable structures. This canopy was also the initial point for the application for the research project mentioned above. Several prototype models were first studied in computer models to evaluate their feasibility and subsequently built as cardboard-models or transparent synthetic models to gradually optimize the system to finally build the real-life application.