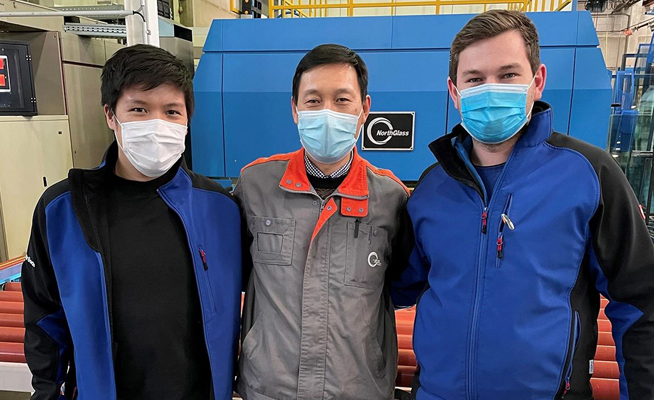 Recently, the international sales department of NorthGlass Tempering Furnace BU received a letter of thanks from a German client producing float glass, coated glass, building glass, automotive glass and more.
This client appreciated NorthGlass for technical upgrades on a SC-1B42 tempering furnace at their Memmingen plant, in Germany, and praised NorthGlass' service engineers for their professionalism and dedication.
NorthGlass began to cooperate with this client in 2006, selling 9 sets of tempering furnace, installed in Switzerland, Germany, Ukraine and other countries.
The main work of NorthGlass in Memmingen was to upgrade the original SC-1B42 glass furnace equipment. According to the customer's request, this 5-week renovation was arranged during the Christmas and New year holidays in the customer's factory.
Unfortunately, at the same time Germany enacted restrictions measures because of the severe coronavirus situation, and NorthGlass had to overcome all kinds of difficulties to vaccinate service engineers and then to send them to Germany on time to accomplish the upgrade.
The head of the customer company said, "Everything went very smoothly as planned, and we have begun to use the new heating furnace to produce tempering glass. The new heating furnace and temperature control system can improve the quality of tempering glass, shorten the heating time and improve the production efficiency."
The SC-1B42 furnace at the Memmingen plant was purchased in 2008, and the convection heating technology used in the original equipment is the fourth generation. NorthGlass now produces the fifth generation of convection technology based on "gapless forced convection technology" and "intelligent temperature control module," which has greatly improved heating efficiency, temperature control precision, glass quality and energy consumption control. These technologies of the NorthGlass high-end series tempering furnaces have been welcomed and praised by the majority of customers at home and abroad.
At the end of letter, the customer also thanked Xueling Hu, after-sales engineer at NorthGlass Tempering Furnace BU, and expressed his sincere appreciation for Mr. Hu's five-week work in Germany. "Mr. Hu was appreciated by my colleagues from the first day when he came to Germany, and he accomplished his work with extraordinary skills and expertise."
Customer satisfaction is the always the goal of NorthGlass, and a customer's praise is the highest reward to the company.