Impact Analysis on the Growth of Automotive Glass Market
The Global Automotive Glass Market will be analyzed on the basis of key market vendors, their product benchmarking, SWOT analysis, and company's financial data such as annual revenue, research and development expenses, and net income, and their geographical presence. The key vendors in the Global Automotive Glass Market include AGC, NSG, Saint-Gobain, Fuyao Group, Guardian Industries, Vitro, Xinyi Automobile Glass. These vendors are actively involved in the organic and inorganic strategies to increase their market share and expand their geographical presence. Organic growth strategies include product launches, geographical expansion, R&D expenses, and organization restructuring. Inorganic growth strategies include merger & acquisition, partnership, and strategic collaboration.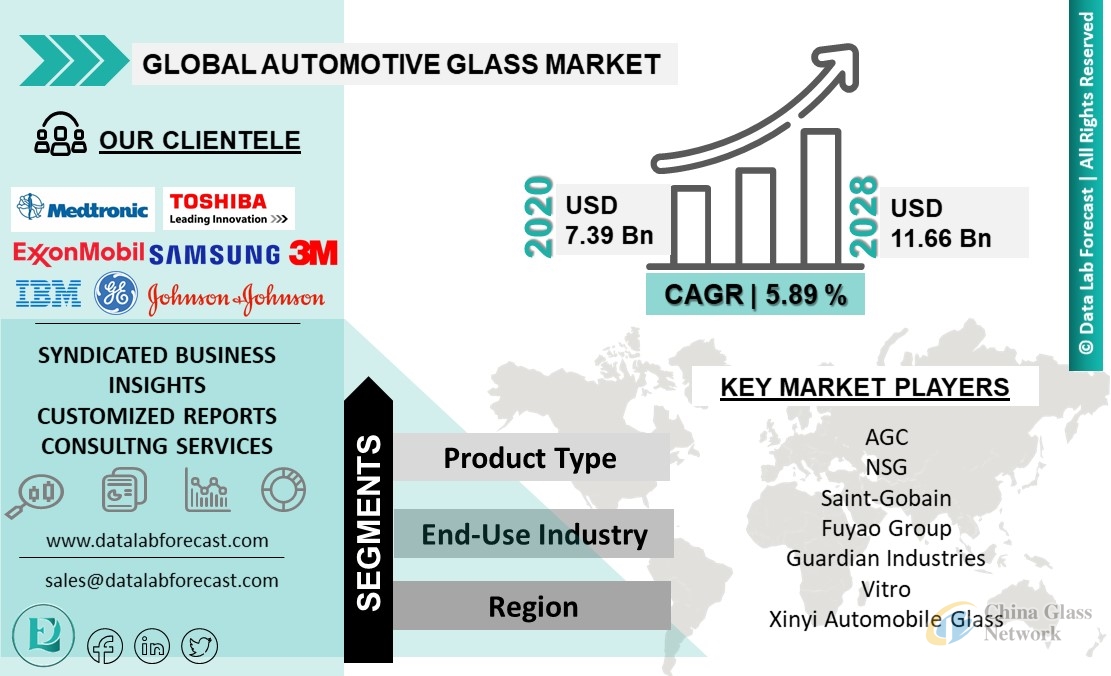 The Automotive Glass Market is valued at USD 7.39 billion in 2020 and it is anticipated to reach USD 11.66 billion by 2028, at a CAGR of 5.89% between 2020 to 2028.
The Automotive Glass market report shows the competitive scenario of the major market players dependent on the sales income, client requests, organization profile, the business tactics utilized in market which will help the emerging market segments in making vital business decisions. This study also covers company profiling, specifications and product picture, market share and contact information of various regional, international and local vendors of Global Automotive Glass Market.
Detailed Segmentation:
• Global Automotive Glass Market, By Product Type:
• Laminated Glass, Tempered Glass, Special Function Glass.
• Global Automotive Glass Market, By End User:
• Passenger Vehicles, Light Commercial Vehicles, Heavy Commercial Vehicles.
Automotive Glass Market section by Region:
Geographically, North America and other developed nations such as the U.K., Germany, France and Italy among others constitute the largest market for this sector both in terms of production, consumption and worldwide exports. Developing nations such as Brazil, India, Thailand, Korea, South Africa and China among others are observing attracting huge market opportunities for the global manufacturers. Thus the entire global market can be majorly classified into regions such as North America, Europe, Asia Pacific and the Rest of the world.
The Automotive Glass Market report study covers important knowledge that makes the analysis document a handy resource for managers, business executives and alternative key people get ready-to-access and self-analyzed study along with graphs and tables to help perceive market trends, drivers and market challenges.