For the fourth consecutive year the Italian Trade Agency organizes the Italian Pavilion at Glassbuild America 2021.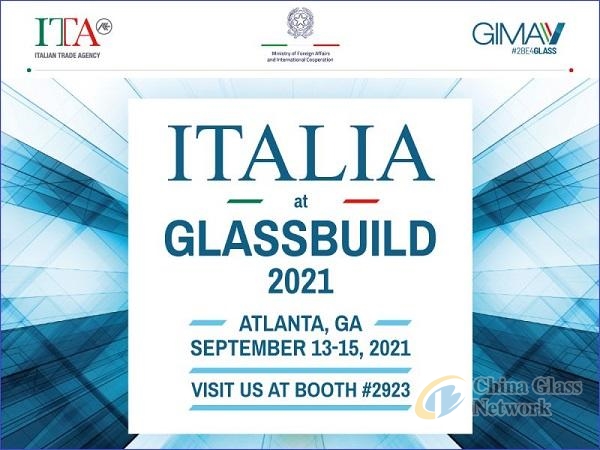 Today marks the opening day of GlassBuild America 2021, held at the Georgia World Congress Center in Atlanta. Italy is pleased to be back in person this year, displaying a pavilion of world class companies.
Italy will be present at GBA 2021 under the Italian Pavilion (Hall B - Stand 2923) organized by the Italian Trade Agency Office in Houston in conjunction with GIMAV (The association that groups together Italian manufacturers and suppliers of machines, accessories, equipment, and special products for glass processing).
The pavilion will be organized in an area of nearly 4000 sq ft, hosting a world class delegation of 16 leading companies in the sector: ADI, Bottero, Bovone Diamond Tools, Diamant, Faraone, Helios Italquartz, Horizon, Italcarrelli, Mappi International, Mazzaroppi Engineering, Optima, Rollmac, Schiatti Angelo, Schiavo Glass Machinery SGM, Skill Glass, Triulzi Cesare Special Equipments.
Despite an incredibly difficult last year (2020), Italy's presence on the U.S. market and its export strength was still quite significant, as it was once again the world's leading exporter to the United States of machines, equipment, special products, accessories, etc. in the glass working sector. As evidenced in other sectors, the glass industry is booming back in Italy as well, as exports to the United States have already surpassed $107 million to date, a 92.2% increase compared to the same time span in 2020 (and an 80% increase compared to the same time span in 2019).
Since 2000, Italian produced machinery and equipment has witnessed an increase in exports by 23%. By employing innovative technology that meets today's marketplace needs, Italian manufacturers offer well-planned production processes and efficient and functional machinery. After combining those aspects with ease-of-use, excellent after-sale service and ample supplies of spare parts, it's easy to see why the "made in Italy" Machinery Industry has increasingly expanded internationally.
To celebrate the excellence of industrial "Made in Italy" at Glassbuild 2021, the Italian Pavilion will host a networking aperitivo event at the Italian Pavilion on September 14th (4/5 PM).
The networking event will also serve as the first US introduction to VITRUM, the main leading trade fair around the world for the flat and hollow glass and glassware sector, to be held from 5th to 8th of October in Milan, Italy.
Any further questions regarding the Italian presence at GBA 2021, the mission of the Italian Trade Agency, or any other matter can be referred to houston@ice.it or 281-888-4288.