ES-A Series Photovoltaic Solar Panels
Post Time:Nov 27,2009Classify:Glass QuotationView:541
Evergreen Solar is a manufacturer and supplier of solar panels suitable for various applications. The ES-A Series photovoltaic solar panels consist of a black anodized frame. It comes in capacities of 200, 205 and 210W.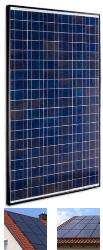 ES-A Series Photovoltaic Solar Panels
The ES-A Series solar panels are String Ribbon solar panels that are manufactured using wafer technology. With their environmental credentials and performance, these solar panels can be installed on any roof and can withstand different climatic conditions. The photovoltaic solar panels have a power tolerance of -0/+5W. With these solar panels, customers can receive extra power up to 5W. Along with a temperature rating of over 90% and anti-reflective glass, the ES-A Series solar panels produce more electricity. The anti-reflective glass is designed with nano-technology to catch up to 6% more light at mid-day and 12% more light during the early and late hours. With the help of the anti-reflective glass, the solar panels can generate 2 to 3% more electricity compared to the standard glass panels.
The ES-A Series photovoltaic solar panels have less impact on the environment with 100% re-usable packaging, lead-free photovoltaic cells and smallest carbon footprint according to the Energy research Foundation of the Netherlands. These solar panels are also easy to install and are certified to withstand 110mph and 210km/h wind speeds. The solar panels consist of halogen-free cables that are double-insulated. There are four clickable connectors of the MC type available with the panels.
Source: www.azocleantech.comAuthor: shangyi