The flourishing tourism and hospitality industries and increasing consumer focus on do-it-yourself (DIY) activities and home décor will drive the Mexican shower glass door market at a 6.7% CAGR during the forecast period (2021–2030). According to P&S Intelligence, the market stood at $255.7 million in 2020 and it is expected to reach $483.1 million by 2030. Moreover, the rising purchasing power of customers, on account of enhancing per capita income, will allow them to spend on luxury consumer goods, such as shower glass doors.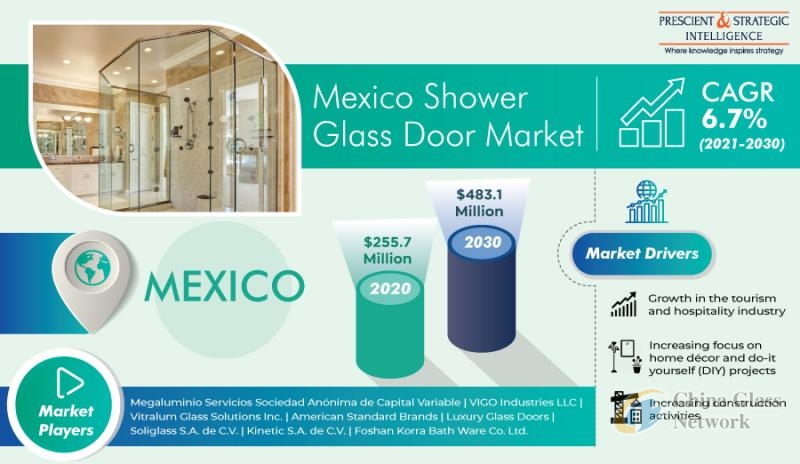 The expanding tourism and hospitality sectors have a positive impact on the Mexican shower glass door market. The growth in these sectors has resulted in an exponential rise in the number of resorts and hotels. Owing to this reason, the adoption of shower glass doors has significantly increased. As bathrooms are an important part of the resorts and hotels, the service charges of rooms also depend on the luxury components of the bathrooms.
The shower glass door products offered through indirect sales and direct sales channels in Mexico are produced by Megaluminio Servicios Sociedad Anónima de Capital Variable, Luxury Glass Doors, Contractors Wardrobe Inc., Soliglass S.A. de C.V., American Standard Brands, Luma ′k S.A. de C.V., Vitralum Glass Solutions Inc., Kinetic S.A. de C.V., VIGO Industries LLC, and Foshan Korra Bath Ware Co. Ltd. These market players are involved in the production of framed and frameless shower glass doors, which are being adopted in the country.
Thus, the bolstering tourism and hospitality industries and the growing popularity of the DIY concept will augment the demand for shower glass doors in Mexico, during the forecast period.