Market-leading UK glass manufacturer, GLASSOLUTIONS, has played a key role in creating an optimal learning environment for students at Alford Academy's new Community Campus in Aberdeenshire.


Main contractor Morrison Construction approached GLASSOLUTIONS to manufacture and install an attractive curtain walling system for the development, choosing glazing products carefully to create a space with excellent temperature control, effective ventilation and plentiful natural light.

In recent years, Alford Academy has found it increasingly hard to accommodate its large yearly intake of new pupils. With existing campus capacity at its limit, a £37 million contract was devised by Aberdeenshire County Council, in partnership with hub North and the Scottish Futures Trust, to create the school's new Community Campus. The new site accommodates 960 pupils and has brought together the primary, secondary and senior years on a single site, as well as providing sport and leisure facilities for the wider community.
The concept for the Community Campus was based around the creation of a central social hub for students, with classrooms and study areas branching off from this central area. The social 'hub' area is two storeys high in places: this allows areas to be used flexibly for a variety of activities, as well as creating a large and airy space which lets in a considerable amount of natural light.

The wide range of purposes that the new campus was intended to fulfil meant that versatility was a particularly important aspect of the glazing specification. In order to create a safe, light, well-ventilated space for students, GLASSOLUTIONS selected Metal Technology's System 17 High Rise curtain walling system to form the building's envelope. With a continuous thermal isolator providing a thermal break throughout, paired with thermally broken casement windows from Metal Technology's System 4-20 range, the low U-value of this configuration provides excellent thermal efficiency, maintaining a comfortable internal temperature for students and minimising the need for climate control. Large glass units were chosen for the project to maximise light transmittance and provide a bright interior.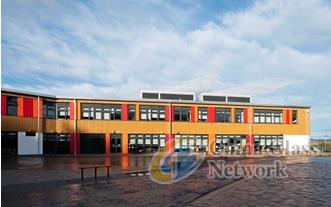 Responses to the new campus have been overwhelmingly positive; the development has been praised for its light, airy interior and how well it has accommodated the needs of the students and wider community.

Jim Hanna, project director at Morrison Construction, said: "Working with our partners and suppliers, the Campus was finished ahead of the coming academic term… We are immensely proud to have been involved in bringing this fantastic new resource to fruition for the local community."

The completed project has also been praised more widely by influential the construction industry. The development, along with project managers hub North, was named a finalist for the Community Development Project of the Year award at the Scottish Property Awards 2016.

For further information, visit www.glassolutions.co.uk
About GLASSOLUTIONS
A subsidiary of the worldwide Saint-Gobain Group, GLASSOLUTIONS is the largest processor, distributor, installer and repairer of glass and glass systems in the UK.
With a heritage of over 140 years of expertise in glass and glazing – and with a turnover in excess of £110 million – GLASSOLUTIONS employs over 1000 people in the UK. Uniquely, the business has operations in all the main segments of the glass industry within the construction sector.
For more information visit www.glassolutions.co.uk.
About Saint-Gobain
Saint-Gobain creates and delivers innovative and high-performance solutions to enhance our habitat and our daily life.
Saint-Gobain's global strategy is focused around meeting some of the fundamental challenges faced by the world today: reducing energy consumption, limiting our impact on the environment, and creating a new generation of buildings which are safe, comfortable and energy efficient.
With EUR 42 billion of sales in 2013, Saint-Gobain is present in 64 countries and employs over 190,000 people worldwide, including over 17,000 in the UK & Ireland. It was founded in 1665 to deliver a world first – the production of glass on an industrial scale – and has continued to grow its business via the ongoing development of new services, products and ways of working with customers.
As one of the world's top 100 innovators, Saint-Gobain spends €400m a year on R&D globally, tackling some of the biggest challenges of our time. One in five products manufactured by Saint-Gobain did not exist five years ago.
Saint-Gobain in the UK and Ireland is committed to investing in training for the next generation of contractors and professionals, as well as supporting existing professionals looking to upskill. Our Training Academy Network, including Greenworks, has delivered more than 70,000 hours of training since 2011.
In the UK and Ireland, some of the best known and respected companies in the construction sector are part of the Group, including British Gypsum, Isover, Glassolutions, Saint-Gobain Weber, Saint-Gobain Glass, Saint-Gobain PAM, Pasquill, Celotex and Ecophon. Together they offer a range of high performance energy-saving products and solutions to help create a more sustainable built environment. For more information on Saint-Gobain visit www.saint-gobain.co.uk.