Fenestration China 2012--- International Exhibition on Windows, Doors, Skylights and Curtain Wall Technology, Components and Prefabricated Units
Dates: Nov.8th-10th, 2012
Venue: China International Exhibition Center (New Venue), Beijing
(Address: No.88, Yuxiang Road, Shunyi District, Beijing, China)
Frequency: Annual
First event: 2003
Organizers: Beijing International UnionExpo Co., Ltd
Ideal access to the target market of China and Asia
Now in its 10th year of successful market operation, Fenestration China has been recognized in Asia-pacific area as a leading international trade fair for windows, doors and facade industry, serving as the optimal platform for channel expansions, technical exchanges and trade sourcing among fenestration enterprises.
1)The risk for the return of economic depression is rising and China might be the fairly safer marketdue to the increasing demand caused by the accelerated process of the urbanization and industrialization.
2)The implementation of the energy efficiency policy put forward by the "twelfth five-year plan" bring plenty of opportunities for the high-end energy efficiency products.
3)The broadening prospect of the China real estate market and the increasing standards makes China buildings experiencing from quantitative to qualitative change.
4)You can meet not only worldwide brands such as Schueco, YKK AP, Aluk, Technoform, Azon, AGC, Pilkington, VBH, Giesse, Wegoma, Emmegi, Weinig, SCM, VEKA Kemmerling etc, but also Chinese famous brands including Kinlong, Guoqiang, 3H, Baiyun, Zhijiang, DECA, CGMA , Nanshan, Huajian, CSG, Bucalus, etc.
A Marketing Platform for leading players
As the professional exhibition of International Character that serves all of the industry's decision-makers , Fenestration China 2011attracts 410 exhibitors from 20 nations and regions and 45325 visits from 34 countries .Approximately 110,000 products in 10 groups are presented in the 55000 sqm exhibiting spaces every year.
1)Growth of Fenestration China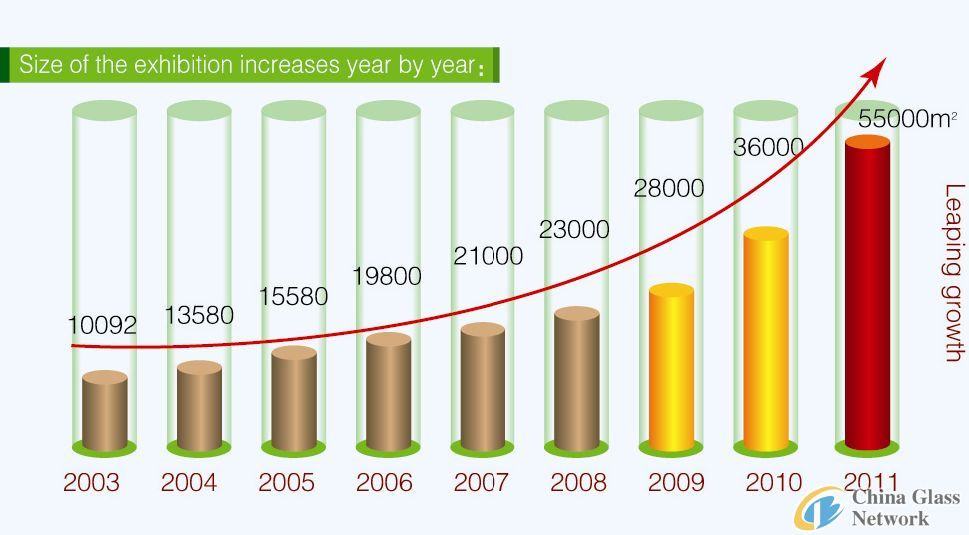 2)Big Names in the Past Events
①Windows, Doors, Facade System
Schuco, Holz Schiller, YKK AP, LIXIL, Aluk, Reynaers, Alipast, Jansen, Technoform, Bucalus, Joydon, Azon, W-plast, Lopsking etc.
②Hardware
Kinlong, 3H, ROTO, Giesse, VBH,Hualong, Guoqaing,Lianxin, Reth, Prevail, Siegenia-Aubi, DAE HYUN, Aurican, JInhui, Chunguang etc
③Aluminum
Galuminum, Nanshan, Huajian, Guangya, Peace, Huachang, Yuantai, Weiye, Yongchang, Lear, Weisheng, Dongcheng, Yuyang, Jianmei etc.
④UPVC
Shide, VEKA,KOEMMERLING, REHAU, Zhongcai, Bowater etc.
⑤Machinery-Profile, Glass, Doors &Windows
Emmegi, Wegama, Deca, Fom, Elumatec, Jiaming, Systonic, SCM, Biesse, Weinig, Tianchen, Senmac, Chenhe, CGMA, Pinghe, Parker, Xinyuan, Yuefeng, Huali, Kingtool etc.
⑥Sealents:
3M, Soudal, Selena, Baiyun, Haida, Antai, Guibao, Zhijiang, Zhongyuan, Xinzhan, Tanyun, Zhongtianxingyun, Fengjing etc.
⑦Architectural Glass:
AGC, Pilkington, Saint-Gobain, Xinyi Glass, North Glass, CSG, Zhongli, Gloden Glass, Zhongli, Haihua etc.
3)Visitor Groups in Fenestration China 2011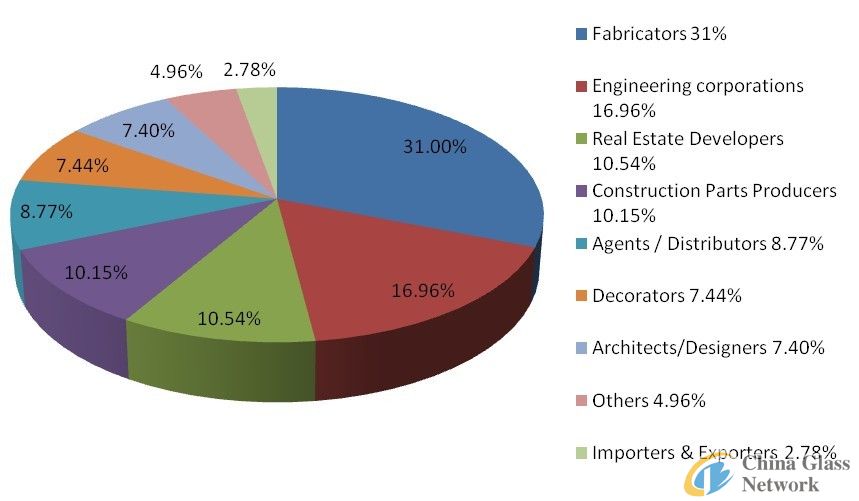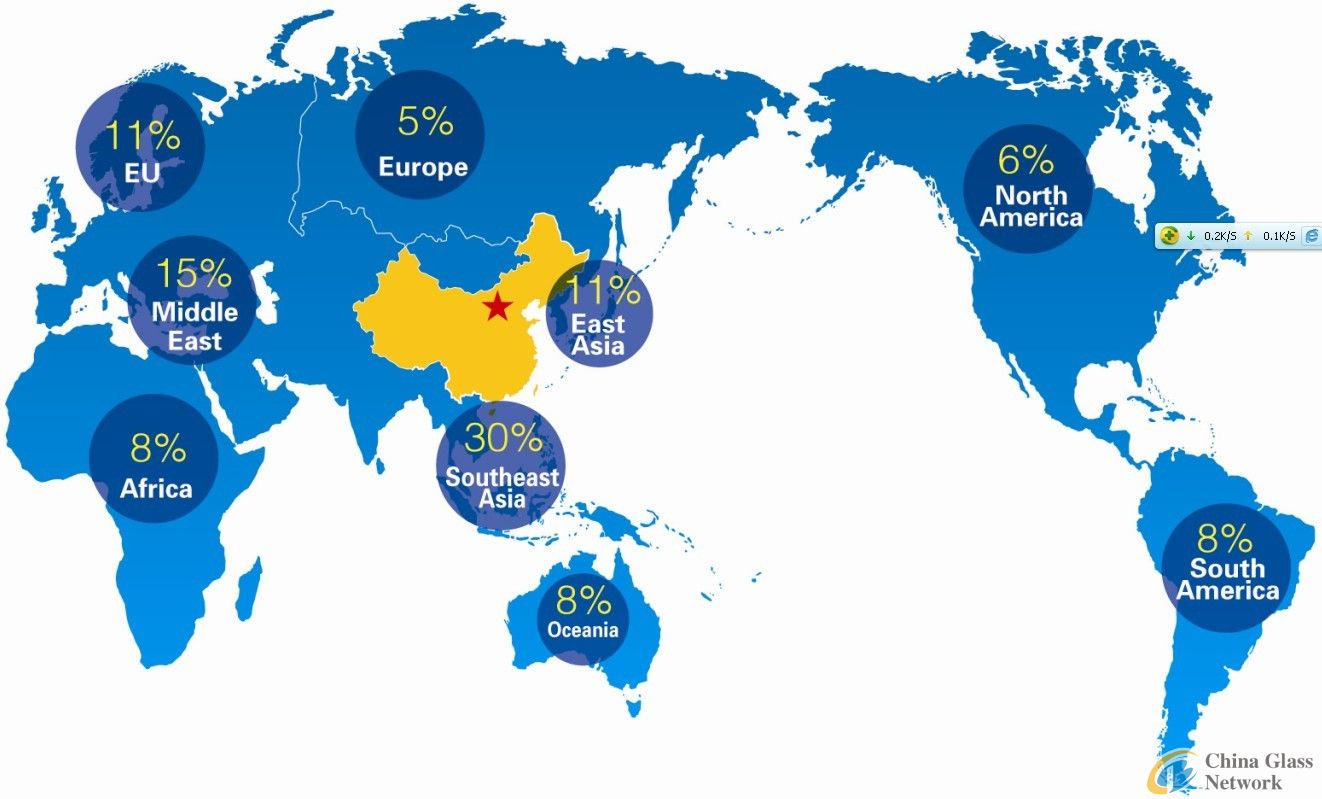 Special Events
1)B2B Match Making ----building relationship with targeted group
Information of exhibitors and their products will be released to professional visitor to help who choose potential partners. Additionally, UnionExpo will provide exhibitors and visitors private areas and facilities for B2B meeting onsite of Fenestration China.
2)Dialogue Industry Experts--Fenestration Days China
As the Asia top annual conference for windows, doors and facade industry, Fenestration Days China is the gathering for top notch experts and serves as the compulsory course for technicians and engineers every year. During the past 10 years, FDC has taken the frontline battlefield in technologies and in the short span of 2 days each year, 20 experts and over 300 technical elites from all over the world come together to discuss about development issues and solutions in this industry.
3)Dialogue with Real Estate Developers--Real Estate and Fenestration Industry Summit
In 2011, strategic cooperation between UnionExpo and Real Estate Chamber of Commerce has been made. Since 2012, Dialogue between Real Estate and Fenestration Industry will be held each year concurrently with the Fenestration China . With the regression of rationality in real estate sector, as terminal purchasers, real estate companies inevitably become the target group of fenestration enterprises for negotiations.
4)Dialogue with Architects ---Forum on Architecture and New Materials Innovations and Development
Architectural designers have always been potential clients whom Fenestration CHina keeps a close relationship with. How to enable designers to further understand the application of fenestration materials , to perfectly combine materials with design concepts have remained the major objectives for designers' forum each year.
Exhibits Profile
Companies from all over the world are welcome to exhibit their products in the following ranges:
1)Windows
Aluminum Windows and Doors, UPVC Windows, Wood, Aluminum Wrapped Wood, Composite of Aluminum and Wood Windows, Steel Windows and a Variety of Compound Profiles.
2)Facades and Curtain Walls
Glass Curtain Wall, Aluminum Curtain Wall, Stone Curtain Wall, Wood Curtain Wall, Accessories of Windows, Doors and Curtain Wall
3)Profile
Aluminum Profile, UPVC Profile, Composite of Aluminum and Wood Profile
4)Sealants
5)Thermal Insulation Materials
6)Windows, Doors and Curtain Wall System
7)Machinery
Aluminum Profile Processing Machine, UPVC window Processing Machine, Glass Processing Machine, Solid Wood Doors and Windows, Aluminum Wood Windows and Doors, Aluminum Composite Wood Processing Machinery and Equipment
8)Accessories for Machine
9)Software
10)Sun Shading Products and Ventilation Equipments
Voices of the exhibitors and visitors
1)Our Italian head office was very satisfied with the quality and quantity of visitors. Meanwhile this also reflects the development of China market. Next year, we are to bring the more advanced machine to the show and wish a good cooperation between us.
----FOM MECHANICAL MANUFACTURING (SHANGHAI) CO.,LTD.
2)This is our first time joining the show as an exhibitor and the trade effect of the show is perfect! You can see endless stream of visitors on our stand. Therefore, we will come again next year and wish Fenestration China better and better.
----ALIPLAST (CHINA) ALUMINUM CO.,LTD.SHANGHAI BRANCH
3)It was indeed beyond our expectation and so many new contacts! The decision of being an exhibitor of Fenestration China was proved to be quite correct. Wish the show a bright future and a further extension of pleasant business relation between us.
----HOMAG CHINA GOLDEN FIELD
4)Generally speaking, the overall response is wonderful. Statistics showed that the number of customers we accepted was double than our expected. We appreciate it very much and will come again next year.
----LIXIL(SHANGHAI)INVESTMENT CO.,LTD.
5)Good job! We leant a lot from your esteemed well organized Fenestration Days China, esp. the technologies in the curtain wall field. I hope FDC 2012 would provide more Cases Analysis.
----Association of Tianjin Construction
6)Although it is the first time for me to come to a China exhibition, the organizers services warmed my heat a lot. Meanwhile, I would also like to say it was an amazing travel, for not only I was drew as the lucky registered visitor but also find what I am looking for through B2B match making.
----Mr. Álvaro Lestón Leal from STAC, Spain
7)We have been an exhibitor of Fenestration China for years and make a good harvest every time, especially in this year. The B2B Match Making deeply impressed us and benefits us a lot. We hope the B2B match making will come with us again in 2012.
----GUANGDONG KINLONG HARDWARE PRODUCTS CO.,LTD.
1)To be an Exhibitor
Take the opportunities to present your company at the leading fenestration trade show in Asia, boost your marketing and seize your share of the China's huge market potential!
2)Prices apply for the Fenestration China
Type

Price

20% of the total rental fee would be charged for the standard booth with more than one side open.

Raw space with more than one side open would be overcharged as follows: Length of one side( the longer side) *3m* 230USD/ m2*20%

Standard Booth ( Min 9M2)

$280USD/ M2

Raw Space ( Min 36M2)

$230USD/ M2
3)To be a Visitor
Grasp the chance to reach 420 qualified manufactures & suppliers on the Asia's largest trading platform and pre-register now at www.fenestration.com.cn
*Oversea preregistered visitors will enjoy free catalogue and free value-added service in VIP lounge:
①Coffee and Tea
②Fast food
③Access to internet free of charge
④Catalogue and visiting guide
⑤Getting advisory for hotel reservation in advance
Contact
Beijing International Unionexpo Co., Ltd.
Ms. Sunny Miao /Ms. Emily Zhang / Ms. Sookie Chai
Tel: +86-10-84712661 +86-10-84718166 +86-10-84719786
Fax: +86-10-84719746
E-mail: sunny.miao@unexpo.com.cn/ emily.zhang@unexpo.com.cn
sookie.chai@unexpo.com.cn